Learning a new language isn't something that happens over night, however the rewards that come with learning how to speak another language continue to benefit you for years to come. Like any other language, if you are interested in learning Arabic and becoming fluent it will take patience, motivation and drive. 
You may not be fluent after a just few classes, but never say never! The difficulties that come with learning a new language aren't for everyone, but if you choose to stick with it you're sure to experience the rewards!
Whether you are looking to learn Arabic as a hobby, or have chosen to study the language at university or school, with over 422 million native and non-native Arabic speakers worldwide, there are plenty of people to practise your speaking and listening with! Your new found bilingual skills you'll be able to travel the world and connect with new communities and cultures.
Arabic is commonly broken down into three standards; classical Arabic, modern Arabic and dialectal Arabic. It's important to understand this, as not all countries that speak Arabic are speaking the same dialect. Think about what form of Arabic you are interested in learning, consider geographical and cultural influences, however if you are interested in the fundamentals, modern Arabic is a great place to start 
In this article we're going to go over some of the different ways you can learn Arabic words (pronouns, nouns, verbs, adjectives etc), we'll explore the different educational tools you can access and the best type of classes for your current level. Let's now check out some of the most effective ways to learn Arabic, and how to look for the right learning tools for you!
The best Arabic tutors available
1st lesson free!
1st lesson free!
1st lesson free!
1st lesson free!
1st lesson free!
1st lesson free!
1st lesson free!
1st lesson free!
1st lesson free!
1st lesson free!
1st lesson free!
1st lesson free!
1st lesson free!
1st lesson free!
1st lesson free!
1st lesson free!
What Are the Different Ways to Learn Arabic?
For many people, learning how to speak a new language is full of fun, new knowledge and rewarding experiences. One key factor to keep in mind when choosing to study Arabic is that the alphabet is completely different to the Latin based alphabet, which is used in a variety of romantic languages such as; French, Spanish, German, English and more.
Native English speakers can sometimes feel like they are hitting road block in the first stages of learning Arabic, however that is no reason to give up on learning! One of the secrets to speaking a new language is practise and immersion, so quitting isn't going to get you anywhere. 
Check out some of the Arabic courses and classes you can do here.
Below is an outline of the some of the challenges you'll encounter when learning Arabic as a native English speakers;
Arabic Alphabet
The second most used alphabet system in the world, behind the Latin alphabet, comprises of 28 consonant letters. Arabic is also written right to left, the forms of letters are also written slightly differently depending on whether they are joined to a preceding or following letter, or if they stand alone.
Arabic has Semitic roots, which means that the language uses mainly consonants and is lexical. The vowels can be thought of as "invisible" as they're not always written down, the vowels in Arabic are known as adjads. 
Let's look at this example of "invisible" adjads...
The root of k-t-b which means "to write", can also form other words such as:
kataba - book
kātib - writer 
maktaba - library
miktāb - typewriter
yaktubu - he writes 
Pronunciation 
The pronunciation of Arabic has more guttural sounds compared to English, so for native English speakers it'll take some practise to get used to making new sounds. It can take a new Arabic speaker who hasn't learned any similar languages up to 2200 hours of learning, before you are considered to be able to speak well.
How Can I Find the Best Arabic Lessons?
Now that we've covered a few of the challenging parts of learning Arabic, it's important to find the best course of study that is most suited you. Luckily, there a great variety of different ways you can learn to speak, read and write in Arabic.
We briefly discussed the three main standards of Arabic, classical Arabic. This standard of Arabic, for the most part, is understood in the Arab world, a linguistic common ground. The Arab world consists of 22 countries, located in parts of North Africa, the Middle East and West Asia.
However as we also mentioned before it is important to remember that Arabic has many different dialects, for example Moroccan Arabic is called Darija. Each dialect differs from each other, so the Arabic spoken in Lebanon is different to Iraqi Arabic and that is different to Egyptian Arabic and so on.
With this in mind, it is potentially a smart move to focus on classic Arabic and once you have mastered the basics think about which Arabic speaking country (or countries) you are most interested in. From there you can refine the standard of Arabic you wish to speak.
Here at Superprof we have put together a list of teaching methods which could be useful for you:
Assimil Method
You'll listen to recordings, with a text of the recording for you read with Arabic on side of the page and your native language on the other side.
great for learning grammar organically and memorising key phrases for beginners
University Degrees and TAFE Courses
If you are someone who interested in becoming fluent then choosing to study Arabic at university is great option, you'll meet other like minded people and learn with engaging content.
excellent for employment outcomes, and making professional and academic connections for the future
Immersive Travel to Arabic Speaking Countries 
Throw yourself in the deep end and learn as you navigate through a new country and practise speaking with native speakers.
a great way to fast track your progress and immerse yourself in the culture of the language you're learning, perfect for adventurers!
Private Tutoring
Learn from the comfort your home with an experienced Arabic teachers and receive personalised classes with constructive feedback
working with a tutor is one the best ways to get started as a beginner learner
Autodidact Method 
If you prefer to learn by yourself, this could be the best way for you to learn Arabic! Autodidact means someone who is "self taught", so this method entails spending as much time as you can finding Arabic media.
perfect for independent learners
Find the perfect Arabic tutor for you in Australia with us here at Superprof.
The best Arabic tutors available
1st lesson free!
1st lesson free!
1st lesson free!
1st lesson free!
1st lesson free!
1st lesson free!
1st lesson free!
1st lesson free!
1st lesson free!
1st lesson free!
1st lesson free!
1st lesson free!
1st lesson free!
1st lesson free!
1st lesson free!
1st lesson free!
Helpful Books to Help you Learn Arabic
Grammar, vocabulary and phonetics will be a key part of any Arabic course or degree you choose to study. Books are an incredibly useful resource when you are a beginner to Arabic, as an educational tool books help you memorise the Arabic alphabet.
Visiting a "maktaba" (Arabic for library) is a great educational tool, you'll be able to find interesting and engaging content. Learning how to read and use accents correctly will help with your pronunciation. Reading and studying with Arabic books will help you become familiar with the graphemes and accents.
By reading Arabic literature and educational books regularly will allow you to:
Learn words thematically, separated into topics such as; personal life, shopping, travel etc.
Become familiar with idiomatic expressions for basic conversational Arabic
Master one thousand new vocabulary words which are spoken in a variety of Arabic speaking countries, and help you understand up to 80% of basic conversations
Practise using and understanding essential grammar
Here is a list of Arabic books  which are great for vocabulary and grammar study
Kallimni 'Arabi Bishweesh: A Beginners Course in Spoken Egyptian Arabic 1
Excellent for beginners who have an interest in Egypt; this book has an audio CD for listening practise which you can download and listen to while you're on the go. This book is also available for intermediate and advanced level, so make sure to check that out as well!
Living Language Arabic, Complete Edition
Including 3 coursework books, an Arabic script guide, online learning access and 9 audio CDs - this a great option if you love a "one stop shop"! Encompassing lessons from a beginner to advanced level, this set of books and other resources are perfect for learning the fundamentals.
Arabic-English Bilingual Visual Dictionary (DK Visual Dictionaries) 
This is a good option if you are more of a visual learner. The images and pictures will help you memorise vocabulary in a fun and colourful way! 
Arabic for Dummies: a Beginner's guide to Arabic
This book is for students who want to fast track their skills in a short space of time.
Books are a fabulous resource, they can set you back financially however they are also an educational investment. If you are on a tight budget remember to dust off your local library card and see what books are available there. There are also plenty of free online resources which we'll cover in just a moment.
Quick quiz question! Have you been paying attention: what is the word for "library" in Arabic?
Where Can I Find Free Online Learning Resources for Arabic?
We are fortunate that we are currently living in a digital age, with our ability to access  information and knowledge faster than ever before. This also means that, luckily for you, there is a great range of online tools you can use for free if you want to learn Arabic.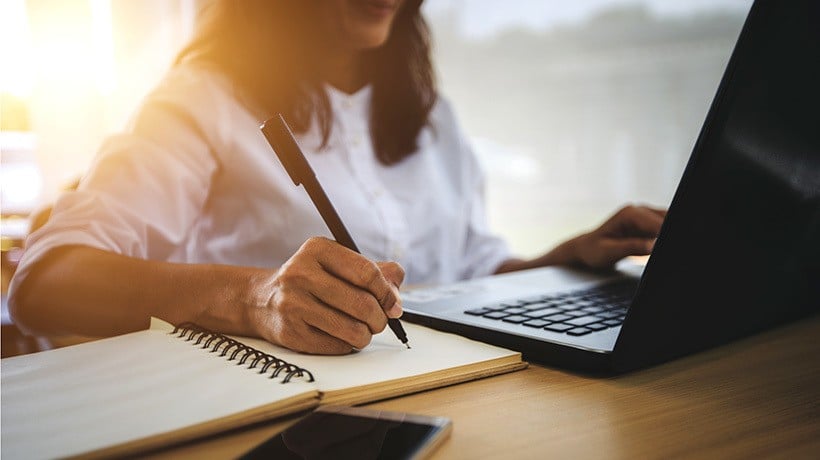 If books aren't your thing and you enjoy using digital learning tools, then a language learning website could be perfect for you! For a more in depth look at learning Arabic online click here.
As independent learner you may encounter a few more challenges, given that you won't have a teacher or tutor to provide you with feedback. Don't let this stop you, you'll just need a little more motivation and dedication.
Online Arabic language courses have continued to become more interactive as the internet evolves, thanks to digital learning platforms such as Zoom, Skype, and Webex students are able to learn from the comfort of their own homes!
Using digital platforms allow teachers to create virtual classrooms, allowing you learn with other students at the same time and receive support and feedback. Another benefit of choosing an online Arabic course is that you can learn wherever you are, as long as you have an internet connection!
Here's a list of just some of the websites and mobile apps which you visit to help you along on your language journey:
Babbel
Al-Kunuz
Duolingo
Memrise
Education Perfect
Polyglot Club
Speak
Busuu
LingQ
Each of these websites all are designed in a way which celebrate the knowledge that comes with learning a new language, with fun and engaging activities these websites strive to ensure it is a fun experience!
The activities and tasks you can complete of some of the language websites and apps will provide you with an introduction to Arabic; teaching you how to read, write and develop your grammatical knowledge. Grammatical knowledge is important as it'll allow you to structure your sentences correctly, practise oral expression and use personal and possessive pronouns.
If you just can't get enough of online resources then click here to find out even more!
The Best Places to Learn Arabic in Australia
Now that we've covered a few different ways you can learn Arabic, let's take a look at how you can learn if you don't want to be glued to your laptop screen. We'll discuss which Australian universities and TAFEs offer Arabic language courses and go through what you need to know about private tutoring.
In Australia, Arabic is the third most spoken language behind Mandarin and English. This is great news if you're interested in learning, as there are plenty of amazing Arabic speaking communities living right here in Australia. According to the most recent census it constitutes for 1.4% (over 300,000 people) of languages spoken at home.
Australia has a great number of highly regarded universities and TAFEs which over recent years, have begun to offer more Arabic studies. Below is a brief list of some of the universities in Australia currently offering courses which could be suited to you and your goals:
University of Sydney - Department of Arabic and Islamic Studies
Deakin University- Arabic Language Program
University of Queensland - Institute of Modern Languages
University of Adelaide - Arabic Language Course
If you aren't interested in a university degree, Arabic conversation lessons are often offered at many different language centres in cities across Australia.
Private tutoring is also a very popular way to learn a new language as you'll be able to work one on one with an experienced teacher. Your classes will be tailored to your specific level and needs, if you want to learn Arabic as quickly as possible then there are some other options that you can consider.
The platform that connects tutors and students