Biology is an exciting and integral school of the scientific world, it is the study of living things and what it means to be "alive"; there are many different sub schools of biology to explore and investigate!
In this article, we're going to take a closer look at some of the biology courses you can study here in Australia.
We will also take a look at four branches of Biology; Wildlife and Marine biology, Biomedical engineering, Forensic Biology and Microbiology. We will discuss what kinds of jobs you can expect to apply for once you've completed your studies. Biology is a rewarding subject to study, and given that there are so many sub-branches there's sure to be an area which interests you!
The best Biology tutors available
1st lesson free!
1st lesson free!
1st lesson free!
1st lesson free!
1st lesson free!
1st lesson free!
1st lesson free!
1st lesson free!
1st lesson free!
1st lesson free!
1st lesson free!
1st lesson free!
1st lesson free!
1st lesson free!
1st lesson free!
1st lesson free!
Where Can I Study Biology Courses in Australia? 
Australia is home to many highly esteemed universities which offer internationally recognised biology and biology science-related degrees. There is a broad range of degrees available for you to choose from in Australia, here are just a few of the universities and some of the Biology and Biochemistry courses you can choose from:
Melbourne University
Bachelor of Biomedicine
Master of Science (Biosciences)
Graduate Certificate in Urban Horticulture
Griffith University 
Bachelor of Forensic Science
Bachelor of Environmental Science
Master of Biotechnology
Australian National University 
Honours Program in Biology
Bachelor of Genetics
Bachelor of Science (Advanced)
As you can see there are plenty of options to consider if you choose to pursue Biology as your field of study at university. The ANU college of science is particularly well known for its science program being one the best education programs in the world, jump onto the ANU college of science website to learn more!
If you're someone who has a passion for Chemistry and Biology then you could consider studying for a degree in Forensic Science. This is the perfect field of science if you want to combine your knowledge of Biology and get experimental with Chemistry at the same time! 
We'll take a closer look at what a bachelor or masters degree in Forensic Science entails, and what sort of job prospects you can expect once you complete your studies. We'll also cover other areas of Biology you can study and work in such as; Marine Biology, Microbiology and Biomedical Engineering. 
Remember to check out some of our fabulous Biology tutors right here at Superprof. 
Where you Can Study Marine and Wildlife Biology Courses in Australia
Steve Irwin, Jeff Corwin and Jane Goodall are just a few Wildlife Biologists famous for dedicating their lives to the study of animals and the conservation of their habitats. If you are someone who is passionate about protecting animals and environmental conservation then this field of biology could be perfect for you! 
Wildlife Biologists also enjoy working in a broad range of settings, from the laboratory to the office and of course out in the wild! Here are just some of the tasks involved if you choose to pursue a career as a Wildlife Biologist:
Collating specimens for biological data analysis
Present biological findings at conferences in Australia and around the world
Conservation and habitat/land management
Conduct research and write peer-reviewed reports
If you are considering working as a Wildlife and Marine Biologist in Australia now is a perfect time, following the horrific effects of the 2020 bush fires we lost approximately 3 billion animals.
There is currently legislation and action plans being put into place to help restore wildlife populations and repair habitats across affected regions.
Work as Wildlife and Marine Biologist requires the ability to work outdoors, practise patience and resilience as well as problem-solving and critical thinking skills. As the job can be very demanding it's not for everyone, however it is one of the most rewarding fields of Biology to work in when you get to experience the positive effects your contributions can have to our wildlife, oceans and environment.
If this sounds like an area of Biology you can see your future self working in, here is a brief list of some of the places you can study Wildlife Biology or Marine Biology courses in Australia:
Deakin University
Bachelor of Environmental Science (Wildlife and Conservation Biology)
University of Tasmania 
Bachelor of Science (Marine Biology)
Working as a Wildlife Biologist you will be able to work as a zoologist, university lecturer, researcher or biological technician.
Learn where to find the best Biology classes here.
The best Biology tutors available
1st lesson free!
1st lesson free!
1st lesson free!
1st lesson free!
1st lesson free!
1st lesson free!
1st lesson free!
1st lesson free!
1st lesson free!
1st lesson free!
1st lesson free!
1st lesson free!
1st lesson free!
1st lesson free!
1st lesson free!
1st lesson free!
Learn More About Biology and Forensic Science
You're probably familiar with Forensic Science from TV shows like CSI, Bones, Law & Order and Forensic Files.
Obviously, television Forensic Science dramatises what goes into forensics in a crime scene, but these TV shows do demonstrate the different areas of forensics you could expect to work in as a Forensic Scientist. 
Forensic Science can be defined as the scientific applications involved in interpreting, investigating and analysing evidence related to crime scenes and criminal activities. There are a number of sub-disciplines within Forensic Science, all of which are governed by justice and legal bodies.
Here are some of the different topics areas you can pursue within the world of Forensic Science and Biology:
Forensic Odontology
DNA Analysis
Forensic Entomology
Forensic Toxicology
Deakin University in Victoria currently offer a double bachelors degree in Forensic Science and Criminology, this degree has been created through a partnership with the Australian Crime Commission.
In this course, you will be able to learn about the fundamentals of data analysis, Forensic Biology and Biochemistry.
Now that we've covered the basics of what Forensic Science and Marine & Wildlife biology entail, let's take a look at another discipline of biology and learn about what Microbiologists do! 
Exploring Jobs as a Microbiologist
Microbiology is a discipline of biological science that is concerned with the study of living organisms that are so small that the naked eye can't see.
Micro-organisms include; viruses, fungi, protozoa, algae and bacteria.
If you are a Biology student who is interested in working in the field of Microbiology some of the tasks you will yourself doing at work could include:
Publishing research papers and facilitate seminars presenting your scientific findings and discoveries
Reporting on health and safety standards within your community
Working in a laboratory
Planning and conducting clinical trials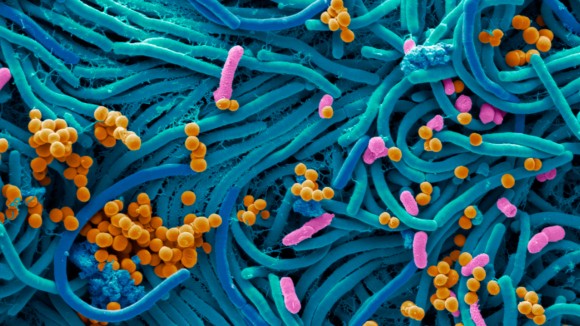 As a microbiologist, you may also find professional opportunities in private and public organisations, food and drink manufacturers, hospitals and other healthcare settings. 
Microbiology and the work involved is important because discoveries made can contribute to finding ways to create medications, maintain energy, food and water as well as solutions to the increasing effects of climate change.
The meaningful research within the field of Microbiology involves the opportunity to save lives and take care of our planet, for many this is what draws people to pursue professional avenues in microbiology.
Australia has a number of universities that offer both undergraduate and postgraduate degrees in Microbiology:
Griffith University 
Bachelor of Science in Microbiology
Masters of Science in Clinical and Molecular Microbiology
Melbourne University 
Bachelor of Science - Microbiology
University of Tasmania 
Master of Applied Science (Microbiology)
University of Queensland 
Bachelor of Science Major in Microbiology, Infection and Immunity (Extended Major)
Bachelors of Computer Science/Science Major in Microbiology, Infection and Immunity (Extended Major)
Academic knowledge, skills and experience working in Microbiology are in high demand. Finding work as a microbiologist could lead you to pursue a career as:
Biomedical scientist
Microbiology researcher
Water quality scientist
Nanotechnologist
Remember to check out our tutors at Superprof to find a tutor who specialises in Microbiology to support your university studies. Now let's take a look at another field of biology you can pursue a career in - biological engineering!
The Fundamentals of Biological Engineering
Bioengineering or Biomedical Engineering is another biological discipline that is responsible for many of the rapid changes in our ever-evolving society.
Biomedical Engineering is the application of biological systems to create products that are economically viable, these products can be made from substances derived from; microbes, plants and animals.
Biological Engineering is interdisciplinary; it involves aspects from both Biology and Engineering to create biomedical devices and biological systems and used in medicine and healthcare.
Also known as clinical engineers and design engineers, biomedical engineers are responsible for tasks such as:
Conduct medical trials to test new medical devices and products
Design, develop and test new devices, equipment and materials by using computer software
Research to solve and find solutions to clinical issues
Working as a biological engineer means you could working and designing biotechnology in either a lab, workshop, office or clinic.
In order to be a successful bioengineer, you'll need to develop your abilities in your problem-solving skills, attention to detail, creativity and communication skills. 
If this sounds exciting and aligned with what you want to get out of your professional life then you could consider studying biological engineering, with ample job opportunities and a chance to make a difference in people's lives. 
Here is a list of some Australian universities currently offering bioengineering courses:
RMIT University 
Bachelor of Engineering (Biomedical Engineering) (Honours)
University of Tasmania
PhD - Doctor of Philosophy (Biomedical Engineering)
Deakin University 
Bachelor of Biomedical Science
University of Newcastle 
Bachelor of Medical Engineering (Honours)
Now that we've covered a few of the different disciplines within Biology it's clear that choosing to study science is a fantastic way to learn about the world around you.
You will be able to develop skills across a broad range of professional areas and thrive in scientific academic settings. 
Start your learning experience today and choose to study biology!
The platform that connects tutors and students